Uncategorized
2020: FI/RE journey in review
2020 was the first full year me and my husband were consciously working towards FI/RE.
We started the year with:
33,500 EUR invested
17,000 EUR in savings
93,000 EUR net worth
12 months later we are at:
68,000 EUR invested
47,000 EUR in savings
196,000 EUR net worth
My net worth goal for the year was to achieve 175,000 EUR net worth. Done!
My stretch goal for investments was to have 125,000 EUR invested and this didn't happen. It couldn't have happened even if we invested all our cash savings, which we don't want to do in the current pandemic situation. We have also agreed to keep a cash cushion of at least 10,000 EUR always at hand so investing all of our savings will never be an option.
Our current investment portfolio breakdown: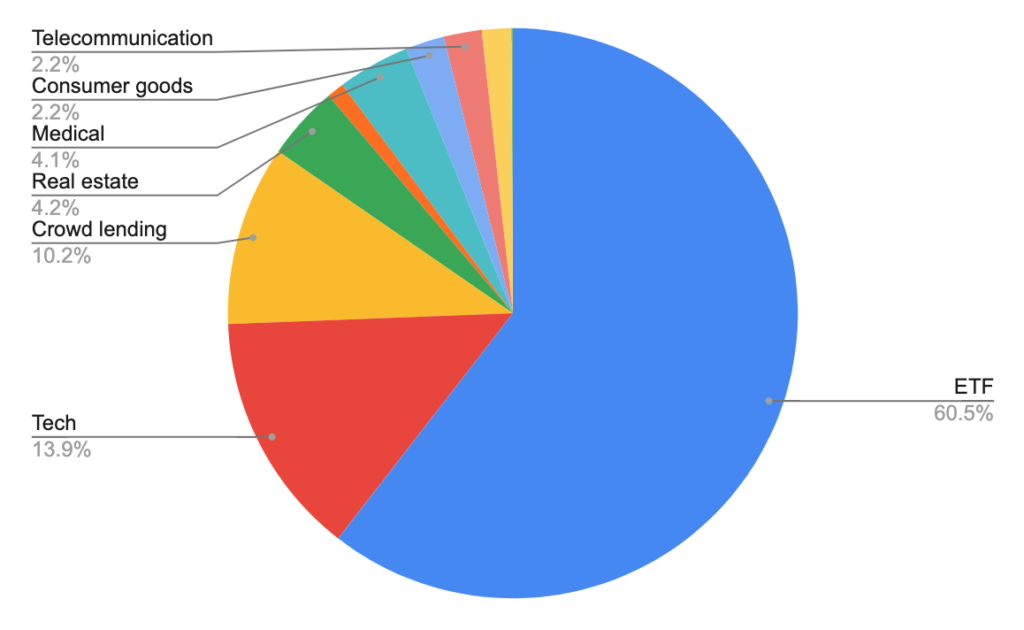 We would normally aim for a balance of 50% ETF, 25% crowd lending and 25% individual stocks. However, seeing how unstable this year was and considering that the pandemic still continues, we are making more conservative choices for now.
Surprises of the year:
Getting 5500 EUR frozen in our crowd lending portfolio (loans are in recovery, the company that issued them defaulted and it's unclear if and when we'll get this money back)
Our ETF (Vanguard FTSE All-World UCITS ETF) dropped to crazy lows in spring and we didn't buy as we were anxious and unsure about what to do. Looking at it now, we definitely should have bought as this ETF is our main asset that we plan to keep on investing in for the rest of our lives. The temporary panic shouldn't have mattered as our horizon for investing is 30+ years. In the future we will definitely buy shares "on sale" when the market is down as the recovery was slow but steady and the share price has almost reached the pre-pandemic levels by now
The amount of passive income we managed to make in 2020
Speaking of which… In 2020 we made 2946,45 EUR in passive income
This is more than one average monthly salary (2816 euros gross) in The Netherlands. It's also humbling to note that in 2019, the amount of passive income we made in the whole year was 32,56 EUR…
But back to 2020:
The main stream of passive income was crowd lending that earned us 2356.31 EUR while we were sleeping
The next best passive income generator were ETF dividends – 413.82 EUR
The rest of our stocks brought home 176,32 EUR in dividends last year
On average we made 245,5 EUR of passive income per month
What to do with all this cash?
In 2020 we grew our savings to 47,000 EUR. My side hustle income for the year was 5899 EUR (my best year yet), we had to cancel all our trips and the restaurants and cafes were closed most of the time. So saving money as a financially stable two-income household in Western Europe was very very easy last year.
Now the question is, what to do with all this cash? Keeping it sitting in a bank account doesn't make sense. We are tempted to buy some real estate, whether here (a stretch goal) or abroad. Figuring out the more profitable option will be tricky and the idea of making such a big investment is scary but I have a feeling the time is ripe for this step.
Thank you for reading and have a wealthy and happy 2021!